Today we're joined by Kelly Ng Wan and Hagen Deloss from
Autodesk
to discuss the
Student Game Award
which is a new category in this year's Game Development World Championship launched with the help and support of Autodesk.
Hi Kelly and Hagen, can you tell us a little bit about who you are and what you do at Autodesk?
Hagen
: I have been making games for about 12 years now, in various capacities. I joined Autodesk almost 4 years ago to help with 3ds Max community support, and eventually found myself in the Media & Entertainment Community Engagement role. I currently help manage Autodesk social media accounts for Maya, 3ds Max, and ShotGrid, as well as run our influencer program and various activities on our community website,
AREA
. I've been an active mentor in my local Portland game dev scene, as well as Jurying roles for Indiecade. I love to help creators obtain their goals!
Kelly
: Howdy! I'm Kelly, a content marketing specialist at Autodesk focused on elevating our 3D games community and the amazing work that they do. I'm always looking for ways to engage with artists to better understand their needs and help them tell their stories, as well as create meaningful content that resonates with our diverse community. Catch me hosting a digital webinar or running around on the GDC expo floor!
What is it that Autodesk does, and how can you help game developers create great games?
Kelly
: Autodesk is the software company behind the professional 3D animation and modeling tools, Maya and 3ds Max, that are used in many games - from indie to AAA. Creators around the world use Autodesk software to unlock their creativity and craft unforgettable game experiences. Our tools enable artists to model, rig, animate, and create complex simulations for games projects.
Hagen
: We collaborate with 3D creators around the world to offer free and accessible learning content for all levels - from beginners to advanced users. From technical breakdowns and step-by-step tutorials to case studies and industry talks, game developers can visit AREA, our community website, to find tools and resources to help them create their games.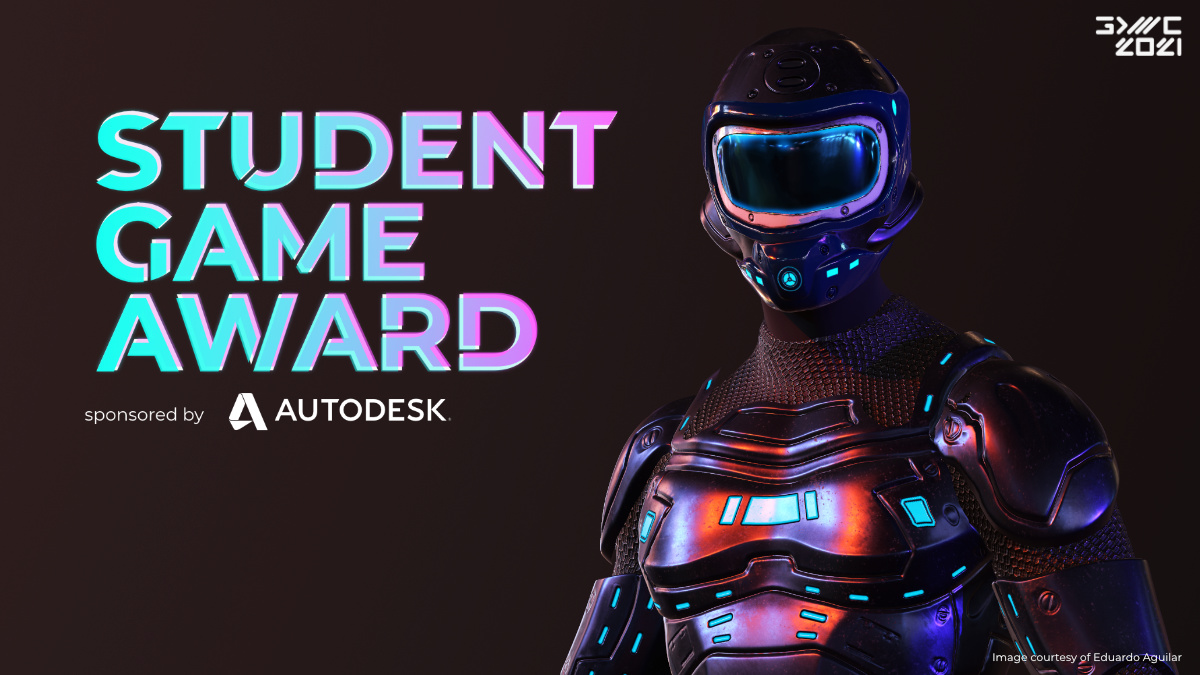 What inspired you to create the Student Game Award with GDWC?
Kelly
: We're huge advocates of supporting the next generation of game creators. After seeing the wide reach and scope of GDWC, we were instantly inspired! We believe that the power of creation fosters an active and diverse community, a very cyclical inspiration loop. The creative problem-solving in game development offers real world impact and helps enrich other industries as well.
Hagen
: Having collaborated with other game jam organizations, and participating in a few as well, we've witnessed first-hand the awesome games these communities can create, and the personal skill growth that can come out of this experience - it just makes sense for Autodesk to sponsor such a venture!
Winning isn't always the most important thing, so what do you hope that the students gain from participating in the competition?
Hagen
: We hope this competition offers students a glimpse inside the world of game development, and that it will inspire a new hobby or even a career in games. This is a great opportunity for participants to learn a new skill and experience the collaborative process of working on a team.
Ultimately, we hope students will achieve the goals they set out for themselves and enjoy the ride.
What kind of games are you looking forward to seeing in the competition?
Kelly
: We're excited to see all the fun, creative, and innovative projects that students will bring to the table, and the stories that will be told through these imaginative games - from 2D and 3D, RPGs and shooters, to big and small games. Remember that a small, well-polished project can be more rewarding than an over-scoped epic.
The sky is the limit, so go on, have fun, and submit your games!
Any advice you'd like to give to a student wanting to get into the games industry?
Hagen
: Keep creating! Your brain might try to measure your success based on folks who are already in the industry, but don't listen to it. Take small steps and set achievable goals.
Kelly
: Put yourself out there and grow your network! The easiest way to do this is by sharing your work online, attending workshops and meetups, and collaborating with others in the industry.
Where should students interested in game development or 3D graphics go to learn more about Autodesk?
Hagen
: Students should check out
AREA
, our community website to find a ton of technical learning content, articles on how to succeed in the industry, and an awesome 3D gallery where they can upload their work.
The
3ds Max
and
Maya learning channels
on YouTube are also great resources for in-depth tutorials created by Autodesk experts.
We also collaborate with talented content creators like Academic Phoenix +, JL Mussi, Arrimus 3D, Harvey Newman, and more, who share specialized content for Autodesk products and other pipeline tools.
The easiest way to stay in the loop is by following us on social!
Thank you, Kelly and Hagen, for taking the time to have a chat with us and answer our questions. And big thanks again to Autodesk for helping make the Student Game Award a reality.
Submissions for the Student Game Award are still open. If you're a student in any field with a game or a prototype, you're welcome to join. Students who've graduated earlier this year are also eligible to join with their student project games. Find the Student Game Award
here
and learn more about Autodesk
here
.