Game info
A Space Retro-Arcade Strategy Shooter about saving the galaxy, nothing less !
The first commercially successful game of the TIC-80 fantasy console.
Last In Space is a Minimalist Strategy Shooter in a retro style. Play as the last survivor of the human species and eradicate the zorgs from the galaxy and across all dimensions ! The Hive Mind is strong, and you won't be able to destroy it with brute force alone. Collect minerals to build survival and military infrastructures on planets. Always keep an eye on your oxygen and energy levels, or you won't survive long. Be sure to act fast, as the Hive becomes stronger over time by infesting planets with nests. Nests crawl with zorgs that won't wait for you to come to them...

Darenn Keller, previously Game Designer at Ubisoft, made Last In Space in one month. He developed it on the Tic-80 fantasy console; It is a virtual game console reproducing the game developement constraints of retro game consoles.

FEATURES

- Procedural levels; never the same game twice.
- Different ships to unlock; different playstyles.
- Scoring system; beat the best score, and your friends.
- A unique and interesting take on retro top-down-shooter mixed with minimalist strategy.
- The first successful commercial title for the Tic-80 fantasy computer (top 6 best selling strategy games in june on itch.io).

ABOUT THE DEVELOPER

Darenn Keller started as Gameplay Programmer in small game companies during his studies. After graduating, he worked at Ubisoft Bordeaux for 3 years as Game Designer on Ghost Recon: Breakpoint and Assasin's Creed: Valhalla. He left Ubisoft to become an independant game developer in solo, and released his first game Last In Space in only 1 month.
Commercial:
Game is Paid
Genres:
Shooter, Strategy, Survival
Players:
Single player
Themes:
Sci-Fi
Platforms:
PC
Platforms: Windows, Mac, Linux
Status: Released, 2022

---

Mobile
Platforms: Android
Status: Released, 2022

---

Browser
Platforms:
Status: Released, 2022

---

Console
Platforms: Nintendo Switch
Status: Prototype, 2022

---

Browser
Platforms:
Status: Released, 2022

---

Game Link:
darenn.itch.io
darenn.github.io

Trailers:
youtube.com
youtu.be
youtu.be
youtu.be
youtu.be
youtu.be

Darenn Keller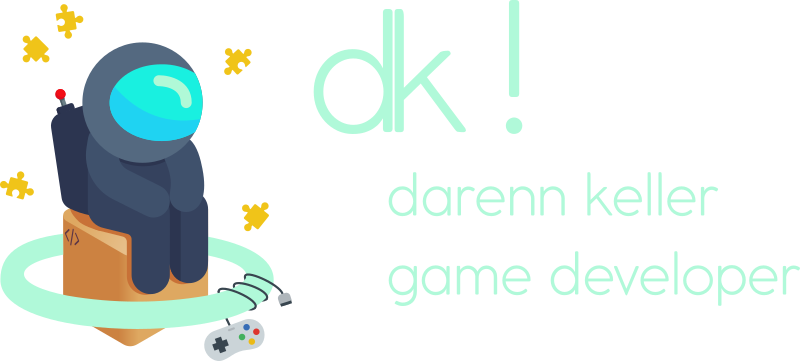 Darenn Keller is a solo indie game developer working on minimalist strategy games. He previously worked at Ubisoft as Game Designer.
| | |
| --- | --- |
| Team Page: | darenn |
| Country: | France |
| Members: | 1 |
| Links: | |