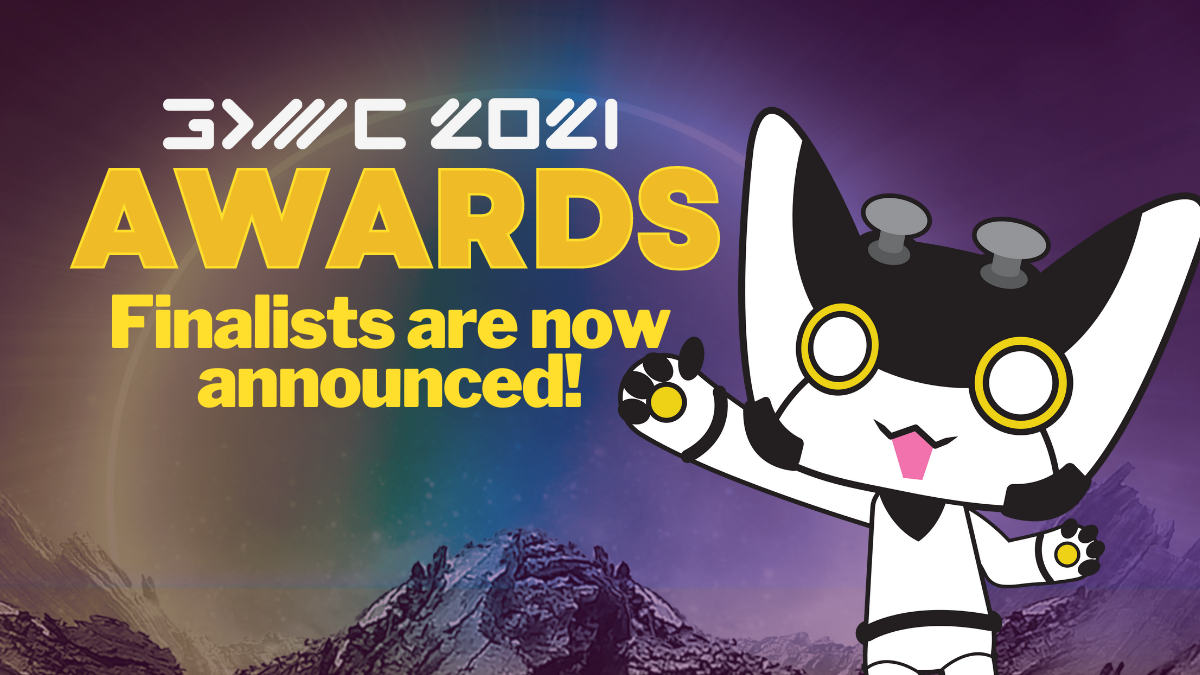 We are proud to announce the 45 nominees for 9 categories. Finalists are shown in alphabetical order.
Pc Pro Game of the Year
A Winding Path
by Three Eyed Games (Germany)
Alina and the Arena
by PINIX (Taiwan)
Lost Twins 2
by Playdew (Pakistan)
Lost Words: Beyond the Page
by Sketchbook Games (United Kingdom)
Northern Journey
by Slid Studio (Norway)
Pro Console Game of the Year
Kulebra and the Souls of Limbo
by Galla (USA)
Okinawa Rush
by PixelHeart (France)
Operation:Tango
by Clever Plays Studio (Canada)
Sunblaze
by Game From Earth (Belgium)
Unpacking
by Witch Beam (Australia)
Hobby Game of the Year
Arid
by Sad Viscacha Studio (Netherlands)
Avian
by Royale Monkey (France)
Frame of Mind
by [SAMPLE TEXT] Studios ltd (New Zealand)
If On A Winter's Night, Four Travelers
by Dead Idle Games (Germany)
There You Are
by Funky Dango (Norway)
Mobile Game of the Year
Dive in the Past
by 3D Research Srl (Italy)
Gridpunk
by neverGames (Romania)
Mojito the Cat: 3D Puzzle Labyrinth
by GTZAStudio (Spain)
Puzzle Story
by Moraksoft (Korea, South)
Svoboda 1945
by Charles Games (Czech Republic)
Best VR Game
A Township Tale
by Alta (Australia)
Maskmaker
by InnerspaceVR (France)
Soulace
by Sander Bos (Netherlands)
Squingle
by Ben Outram (United Kingdom)
Ziggy's Cosmic Adventures
by Stardust Collective (United Kingdom)
Best VR Prototype
Booper, Get Home!
by Fletcher Studios (USA)
Rogue Ascent
by Noonerbear Studios x Clique Games (USA)
Vermin Exterminator
by Mineo Games (France)
VR-Enhance
by Modulus (Malta)
VR Kayaking Game
by Penguin Waffle
Student Game Award
Astreias Gift
by ASTREIA'S GIFT (France)
Incarnation
by Idan Rooze (Israel)
LYSFANGHA
by LYSFANGHA (France)
POSTBIRD IN PROVENCE
by POSTBIRD IN PROVENCE (France)
There You Are
by Funky Dango (Norway)
Game Jam Game of the Year
As One Against Our End
by As one against our end team (France)
Get Out!
by Ralph Anna James (USA)
Karnalita
by Havana24 (Italy)
Self Apart
by EL STUDIOS (Spain)
Twilight Tower
by Aesth (USA)
We will not reveal the winners yet - they will be announced at GDWC 2021 Awards.
As an exception Fan Favorite Winner is already announced!
Fan Favorite
Winner:
pureya
by Majorariatto (Spain)
Finalists:
Avian
by Royale Monkey (France)
Coromon
by TRAGsoft (Netherlands)
Miko Adventures Puffball
by Coriander Games (Egypt)
Scarlet Hollow
by Black Tabby Games (USA)
Thank so much to everyone for participating. 2021 was a great year for the championship and we were really happy to see many amazing games. The competition was really tight. In March, GDWC will open registration again, and the new season starts.